Find Part 1 of this post, Amazon Throttled, on ChazzWrites.com.
Skip to Part 3: Me, Full Throttle for another answer for finding readers.
Time to wrestle and tell the dirty truth.
What else can you do to find readers for your books and give them the best chance in the Marketplace of Awesomeness? And what sucks? Here's my take:
1. Are blog tours really doing it for you? Are blog readers converting to book readers? They should…but I don't think they do nearly as much as we hope. If they did, I'd have certainly sold more books by now. Blog tours can work, but it takes a lot of work to provide unique content to each blog. Do that if you're going to tour and hit the largest blogs first. (Also, once it's posted to one blog, don't repost it on your blog. Bad SEO.)
2. We complain readers focus too much on Free and reap the benefits without commitment. Oddly, we're hoping to win over the world without paying a dime. We don't have advertising budgets. It's time to get real and set a budget and pay for help selling your books. Yes, we all want it to happen organically without extra work or money. We all just want to write. That's not the way to bet. Grow up, stop wishing and spend money to make money.
3. Don't do another author interview on yet another small blog unless you're going to make it different and/or funny. Go for funny because those interviews all sound the same and yes, I know, we all drink coffee. I win for most caffeinated. What else you got? I'd rather hear about your choice of lingerie than endure another answer to the question: "How did you start writing and where do you get your ideas?"
4. Don't do another blog post about how "content is king." It's either self-evident or it doesn't really mean anything. I need more meat than that to click the buy button on your next marketing book. 
5. Don't ask me to read another interview with one of your characters. I might be interested in that, but only after I've already read your book, not before. I'd love to know what happens to the main character in Fight Club after the book hits "The End". However, before I knew what that book was, he's just be another guy struggling with macho bullshit issues and a sleep disorder.
6. Will you please just take my advice and get Kit Foster to help you with your book cover? Get a graphic designer to help you. Do not do this yourself. Don't even do it yourself if you're a graphic designer. Please! Sweet baby Jesus, I'm begging you! Help me help Kit help you! Great book covers do not suck. Bad book covers hurt you. We all judge books by their covers.
7. Revamp your website. Get a custom banner. (Kit does those, too. Look at the top of this page.) Also: White field, black type, no exceptions. Your pretty pastels and all those flowery serifs are repelling me from your site and making me squint so, perhaps unfairly, your book doesn't get a shot.
8. Be bolder with your next book. Come up with a new angle. There are no truly original stories, but you have to find something fresh to sell us. Have you read a single description of a romance book that doesn't sound like hundreds of other romance books? Do something different and experimental. Whatever you do: Stand up and stand out! Start thinking audiobooks, for instance. (But it's still way too early to bother with setting up an app for your book. People aren't using the medium that way in any numbers.)
9. Work harder with your editorial team. Expand your beta reader bunch. Make it cleaner. Don't wait for perfection, but excellence will do nicely.
10. We write to be read. Shyness is not helping you. Do something to promote your books every day. Do not whine that this is necessary. If you aren't going to promote, you may as well write for your desk drawer. That's okay, if that's what you want. (I sincerely doubt that's what you want.) And stop tweeting book links without imagination.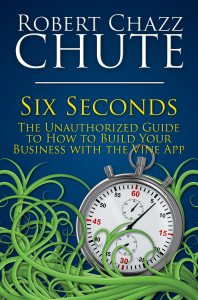 11. Use video more. We are visual creatures, so use YouTube more on your website or try Vine. If they're quick, video blogs are interesting. (WordPress allows you to do audio blogs pretty easily, too.) Reach people in new ways. Buy Six Seconds, The Unauthorized Guide to How to Build Your Business with the Vine App by Robert Chazz Chute. (I told you it didn't pay to be shy.) The Vine app is an example of a new way to reach new readers. It's video Twitter and the time to jump in early is slipping away. Join now. 
In Part 3, Me: Full Throttle, I'll show you how I'm reaching out to new readers in new ways. You could do this yourself or even be part of my strategy, if you're cool enough. Are you cool enough? Click here.