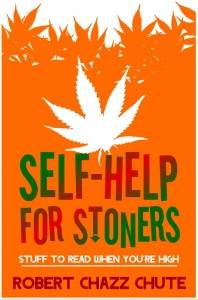 Here's the 411: I'm reading a funny short story from one of my books on Vine.
I'm skipping an All That Chazz podcast this week for something new and different. One of my favorite things is the Vine app. One of my favorite short stories from Self-help for Stoners is "Another Day at the Office." Over the next few days, I'm going to post the excerpt on Vine, six seconds at a time. A little crazy, but fun. 
No one has ever read on Vine before, so I get to make my own rules. I'll do a little at a time so I won't flood anyone's feed. Each post will have the entry number in sequence and the tag #SHFS. 
The Vine Contest
The person who guesses closest to the number of vines I have to post to get to the end of the story will get a paperback copy of my crime novel Bigger Than Jesus. (Hint: "Another Day at the Office" is around four pages long in trade paperback size.) Good luck!
Comedian Steven Wright (among a metric ton of Japanese schoolgirls) have written whole novels on Twitter, so an author reading a short story six seconds at a time isn't that outlandish. I don't have any stop motion skills, but I still wanted to try something different with Vine. This is it! Enjoy!
You can buy Self-help for Stoners and all my other books here.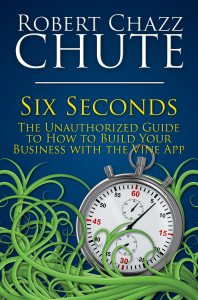 If you aren't on Vine yet and you have an iPod, iPhone or iPad, click here to join the party. It's free. Sign up. Then look me up (Robert Chazz Chute) and subscribe. Cheers!
Also, in case you didn't know, I also wrote the first book about the Vine app. Grab it for just 99 cents by clicking the cover image. Please and thank you!
(If you're really jonesing for a new podcast, you can always slip over to my Cool People Podcast and listen to the interviews there.) Have fun, everybody!